QUEENSLAND FRUIT FLY INFESTATION AT JOLIMONT AND SLATER GARDENS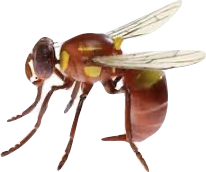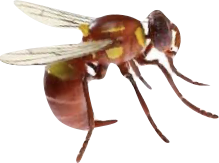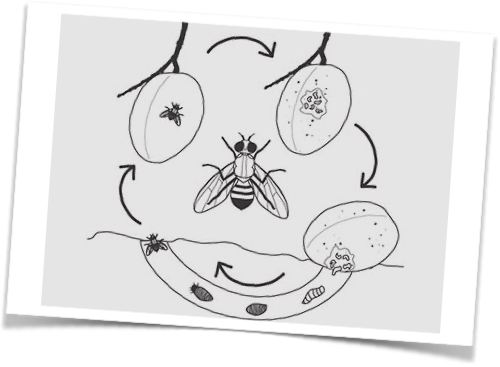 Adult fruit flies are about 7mm long, reddish -brown in colour, with distinct yellow markings –  smaller than a normal house fly.
In April 2022, both Jolimont and Slater plot owners advised finding Queensland Fruit Fly (QFF) larvae in fallen capsicums and tomatoes on their plot.  A swift investigation by 3 members of the committee to other plots showed signs of QFF found in fallen fruit.  Typical fruits and vegetables affected are: chillies, capsicums, tomatoes, eggplants, berries, raspberries and blackberries.  By picking fruit and vegetable before they drop onto the ground you can stop the breeding cycle of fruit flies.              
  Removal of fallen fruit is important to break the cycle.
Research shows that it is important to eradicate the QFF before it takes hold and leads to total loss of crops – fruit flies are one of the world's most destructive horticultural pests. 
4 stages of the life cycle of fruit flies – eggs, larvae (maggots), pupae and adults.
1. EGGS : The female fruit fly lays eggs (1-20) into the fruit of the host plant (eg. tomato).
2. LARVAE : The eggs hatch into larvae inside the fruit after a few days (2-4days). At this stage of the cycle we are unlikely to be able to recognise the presence of fruit fly eggs in our fruit/vegetable as the eggs are very small. The fruit or vegetable feeds the larvae until it is ready to burrow into the ground. The larvae looks like maggots when fruit/vegetable is cut open.
3. PUPAE : As the fruit ripens and rots, it falls to the ground with the larvae inside fruit. Fully mature larvae then leave the fruit and burrow into the soil to form a pupae. In the soil, the larvae becomes inactive and changes to a hard pupae. Inside this pupal case is where the fruit fly develops. As these live underground, it is hard to eradicate them. Prevention by removal of fallen fruit and vegetable is the best way.
4. ADULT : Fruit flies may emerge from the pupal case in the soil in as little as 7 days during summer, or after several months over winter. Fruit flies can survive through winter.
Fruit fly numbers tend to increase, usually in spring, when the temperatures are warming and there is a continued source of host plants such as fruits and vegetables.
Female fruit flies tend to sting fruit from October to May and lay eggs into healthy, maturing and ripening fruit (on trees) and vegetables.
TO PREVENT THE BREEDING  AND INFESTATION OF THESE FRUIT  FLIES, PLEASE PICK UP  FRUIT AND VEGETABLE THAT HAVE FALLEN ON YOUR PLOT.
Put fruit/vegetable in a sealed bag and then a second sealed bag (double bag) and place in direct sun for a couple of weeks (to kill) before placing in bin. Alternatively, bag affected fruit/veg and place in microwave, boil in water or freeze to kill larvae/maggots, then place in a second bag before placing in rubbish bin. The larvae/maggots need to be killed before placing in bin.
Fruit fly traps have been set up in Jolimont on selected plots – traps will be  up on select Slater plots as well.  Various liquid baits were placed in plastic bottles (with small holes) and tied to poles with a short note of explanation attached.  They are checked regularly to see the effectiveness of the traps.  
Please do not remove these traps.