JOLIMONT PLOT INSPECTIONS SAT 14TH AUGUST 2021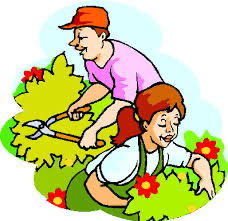 NOTICE TO ALL MEMBERS THAT WE ARE CONDUCTING PLOT INSPECTIONS ON SATURDAY 14TH AUGUST 2021 AT 10AM.
If this is not possible due to COVID lockdown rules, the plot inspections will still take place during the following fortnight.
Plots that fail to comply with the NCG By Laws will be sent a letter and given time to make improvements. We will be concentrating on weeds (especially stinging nettles, oxalis and chickweed), paths and plots that show insufficient attention and care, possibly neglect.
With the problems of pests recently, we will also be looking at plots that have left items that can be used as 'homes' by pests such as piles of wood/stakes, empty containers, piles of dry waste left in mounds, plastic etc. Anywhere there might be a dark warm place for pests to snuggle in for the winter.
Removal of these items would be greatly appreciated by all.
Items such as wooden stakes should be placed upright instead of horizontal. Either way as long as there are no gaps and stakes are tied tightly together. Rats have been shown to climb and find gaps that they can nest in from the cold and wet. Pests do not like light and cold surroundings so the more dark and warm nesting possibilities we remove from every plot, the better chance we have of not helping the pests multiply.
We will also be checking all shared paths around every plot. These areas should be mulched and grass-free. All four sides of every individual garden plot should be surrounded with mulch. There is currently a supply of mulch at the gate entrance to the garden plots that has been specifically set aside for this purpose.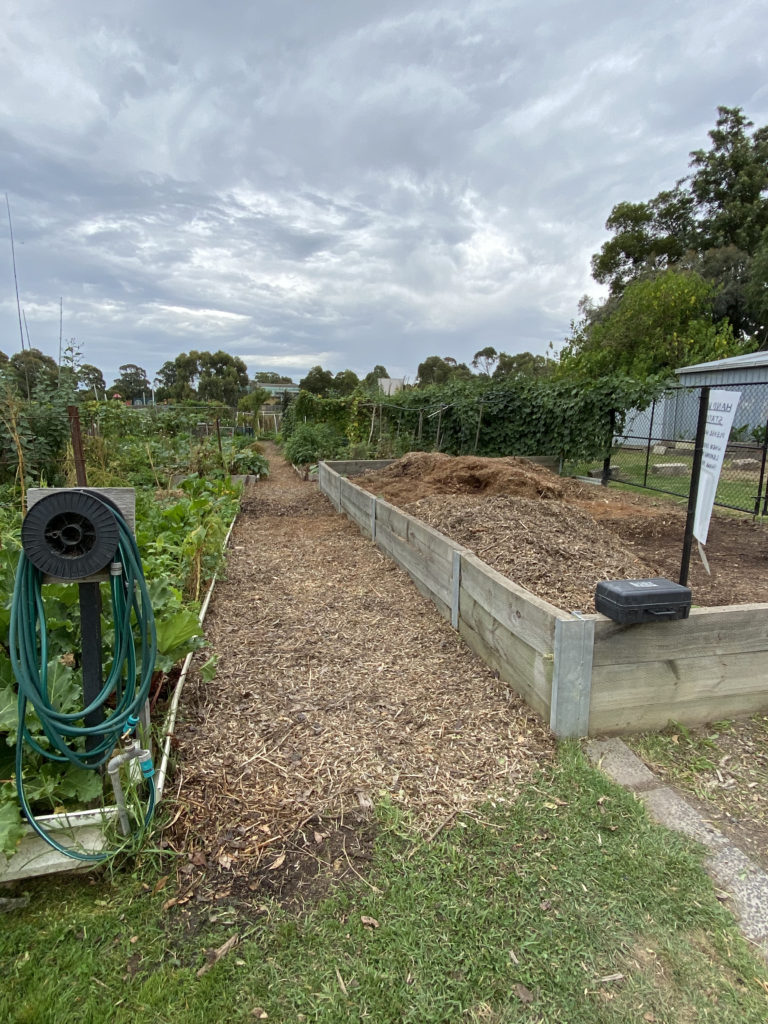 This method is called sheet mulching and works by killing weeds/grass by depriving it of light.
1. Start by laying down 4-6 sheets of newspaper and overlap the layers to cover the whole area around your plot (shared paths). Please note that using 1-2 sheets of newspaper is not sufficient for long and would require reapplication more frequently to reduce the growth of weeds/grass. Best to wet the newspaper as well while laying newspaper down. It will make it harder to fly away especially on a windy day. Newspaper is donated, collected and kept in the locked garden shed. Cardboard can be used as well but this is often harder to get.
PLEASE DO NOT USE PLASTIC BAGS/SHEETS, CARPET OR WEED MAT – these materials do not break down.
2. Spread the mulch thickly over the top of wet newspaper layer to a depth of 5-10 cms. Make sure all four external sides of your plot have been completed and you're done. Congratulations!
IF YOU HAVE NEWSPAPER OR CARDBOARD THAT YOU WOULD LIKE TO DONATE PLEASE PLACE IN THE LOCKED SHED IN A NEAT PILE.
3. Do NOT use planks of wood in the shared paths either. Paper/cardboard and mulch are the only acceptable materials. The photo below is an example of NOT ACCEPTABLE use of wooden planks in shared path. The wood needs to be replaced with paper and mulch.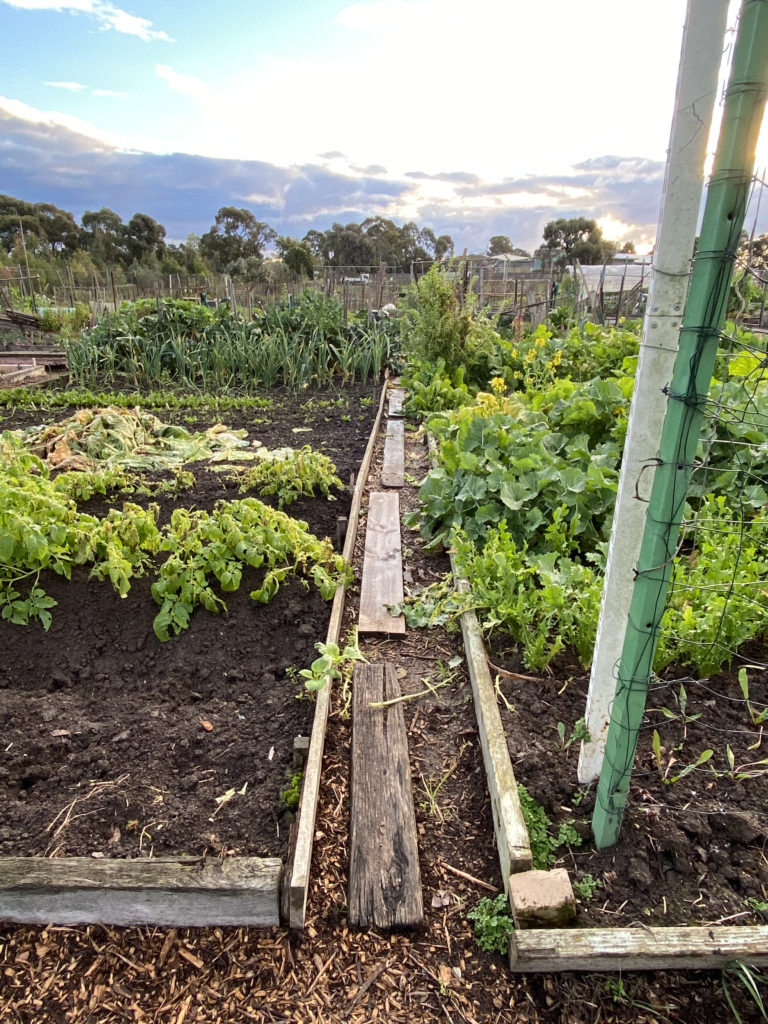 DO NOT USE WEEDICIDES, HERBICIDES OR PESTICIDES – usage of any of these will mean instant forfeiture of plot according to the NCG By-laws. The garden is organic-based.
No warnings will be given in these instances.
Please refer to our NCG By-laws booklet – one would have been given to you when you were allocated a plot at the NCG, but if you have lost or misplaced it, please feel free to request a hard-copy via the community letterbox under the shelter.
If you are unsure, please feel free to discuss with us as we inspect the plots.
Thank you.